Korean Natural Farming Piggery with Biochar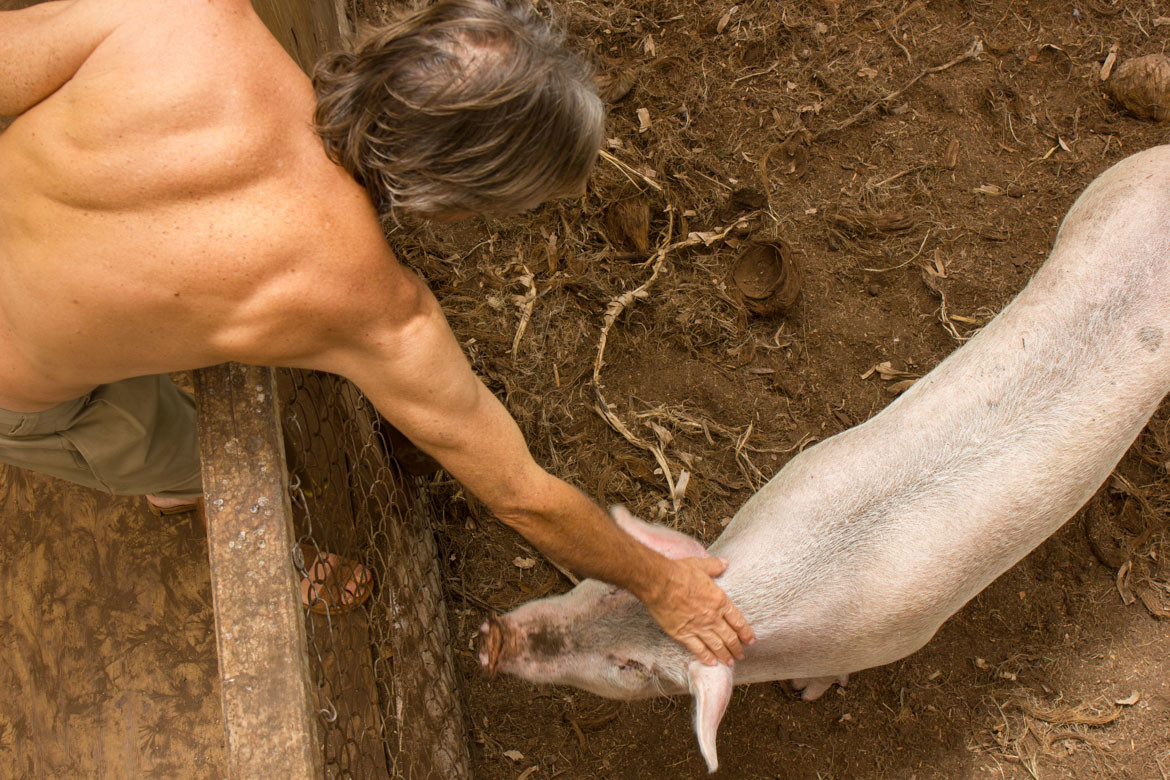 Korean Natural Farming Piggery With Biochar Recognized As "Best Management Practices" by USDA
In short, a Korean Natural Farming Piggery is a microbially inoculated deep litter system that utilizes layers of biochar, logs, wood chips, and sawdust allows farmers to raise pigs with relatively no odor, no flies, no poop scooping and the blessings of USDA and EPA.
A milestone in clean and ethical animal husbandry in the United States. Not only was this method recognized by the USDA as "Best Management Practices", but it also complies with the new and more strict livestock operation regulations recently set forth by the EPA.
Back in 2009, I had the honor of supplying some of the biochar used in the original model Korean Natural Farming Piggery in Hawaii. The biochar is used in two ways; first in the bottom layer of the deep litter, and secondly the biochar is used in the creation of an "Indigenous Micro-Organism" (IMO) material that is used within the surface of the litter and as a spot treatment.  View here for our line of biochar products.
The context is important and I cannot explain it better than the man who is most responsible for bringing this technology here to our country, so in the words of Mr. Michael Dupont:
A number of interagency research and demonstration projects have been implemented throughout the United States to develop best management practices (BMPs) to address water quality degradation due to agricultural, especially livestock, activities. Until recently, lagoon storage, effluent irrigation, composting, and solid separation have beenadequate for on-farm nutrient management to comply with the Federal Clean Water Act. Due to more stringent US EPA regulations, which include odor and vector nuisance components, most of these BMPs will need to be altered significantly.

Mike DuPonte, UH CTAHR Livestock Extension Agent, learned of natural farming techniques used in South Korea, specifically for swine production, which could be adapted as potential BMPs in the United States. The concept of incorporating indigenous micro organisms (IMO), use of natural ventilation and solar positioning for cooling and drying within livestock housing, and a maintenance-free green waste bedding system all combine to create a piggery that mitigates generation of nuisance flies and odors and all but eliminates the need for manure handling.

Through a UH CTAHR project in collaboration with Cho Global Natural Farming (South Korea), Kang Farms (Kurtistown, HI), County of Hawai'i Research and Development, Hawai'i Department of Health-Clean Water Branch, Puna Soil and Water Conservation District, and USDA Natural Resource Conservation Service, a piggery implementing these techniques was recently constructed just outside of Hilo, Hawai'i, the first of its kind in the United States. With a few modifications to address tropical conditions, UH CTAHR has assisted this piggery in meeting County of Hawaii buildingmanagement issues, including nuisance vectors and odors, on small scale swine farms. (M. Dupont, 2010)
I have personally visited the original facility several times. The odor was not unpleasant, though it is not completely devoid of any smell, that would be impossible. If you have ever been to a pig farm, the smell can literally make you dizzy, it can be overpowering. This pig farm smelled more earthy, like good compost, with overtones of the natural body odor of healthy pigs. There were a few flies, about one or two per pig, like you might expect at any outdoor bbq in Hawaii.
There is virtually no manure handling!!! This is true. The manure and urine are essentially composted into the bedding as quickly as they arrive. I had to see it with my own eyes to believe it myself. They add sawdust and/or wood chips regularly and the pens have no seepage whatsoever. After several years all layers of the deep litter pens (the biochar, logs and sawdust, plus poop) are harvested for use as a fertilizer and the pens are refilled with fresh new materials (Dupont et al. 2012).
There are quite a few important details to successfully implementing such a system. If you are interested you can contact us for more details. We can provide you with biochar products for your deep litter system piggery, additional information, consulting services, and connect you with other people who are taking part in this too. 
Bibliography:
Michael Dupont, 2010,Hānai'Ai / The Food Provider Mar-Apr-May 2010,http://www.ctahr.hawaii.edu/sustainag/news/articles/V3-Duponte-piggery.pdf
Dupont, Michael et al., 2012,The Natural Farming Concept:A New Economical Waste Management System for Small Family Swine Farms in Hawai'i., College of Tropical Agriculture and Human Resources, LM – 23, September 2012.