Biochar Product Price Sheet & Shipping Zone Map _ Blacklite Pure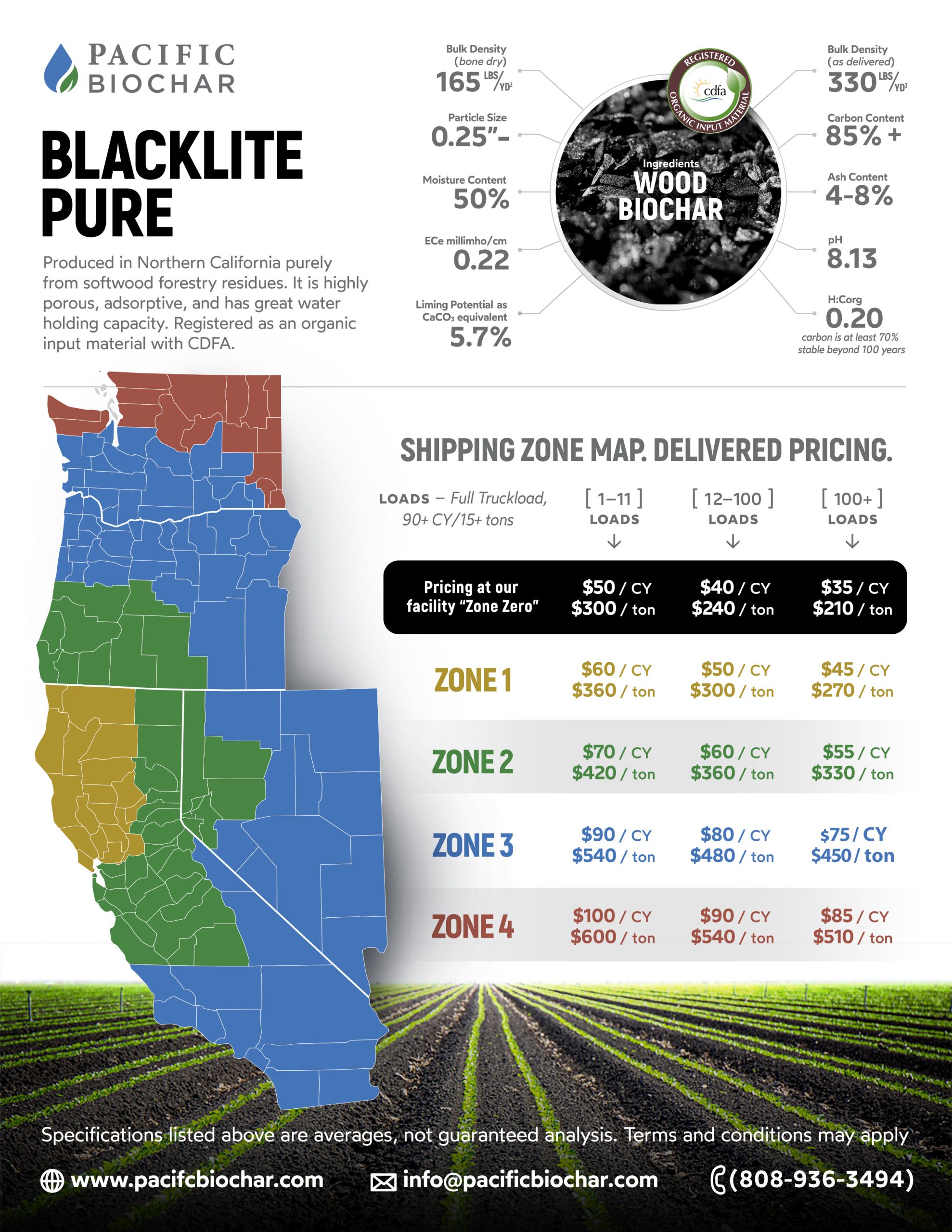 Contact Us for Biochar Products
We sell biochar wholesale.
Contact us to place an order.
FEED-Grade Softwood Charcoal Products

In December 2022, Pacific Biochar Benefit Corporation was officially approved for a Commercial Feed License through the California Department of Food and Agriculture (CDFA) Commercial Feed Regulatory Program (CFRP). We are excited to be working with Seley & Co. to make softwood charcoal (i.e. biochar) available in California as an ingredient for animal feed.
Seley & Co. offers commodity trading services on livestock feed ingredients to hundreds of dairies in the San Joaquin Valley, as well as feed lots, commercial feed mills and poultry producers in the Imperial Valley of California. They are also currently working with UC Davis to initiate feed trials in the Imperial Valley with beef cattle using softwood charcoal manufactured by Pacific Biochar. 
For more information about our feed-grade softwood charcoal product please reach out to info@pacificbiochar.com. If you're interested in learning more about the current feed laws and regulations in California, please contact us.
Distributors
Looking for a distributor near you?  Pacific Biochar products are available through a network of distributors.
More Information
We can help with application rates, product information, and general questions
CDFA Organic Input Material Certification
Blacklite Pure biochar is registered with California Department of Food and Agriculture as an Organic Input Material.  Here is the PDF:  CDFA OIM_ PURE_ 2022